精炼蓖麻油供应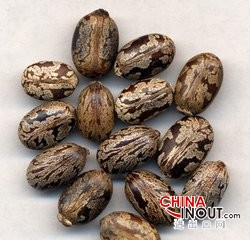 等级:FSG/BSS
精炼蓖麻油
(优等级 F.S.G /英国标准-B.S.S)
蓖麻油是按照英国标准规范(BSS)漂白。它是一种黄色的粘性液体,去除悬浮物质,不溶于水。
应用
FSG/ BSS蓖麻油作为原料,广泛应用于其他衍生产品。
药物和化妆品成分
与苯乙烯和二异氰酸酯结合成膜清漆或不溶性不熔化的聚合物
作为维生素和矿物质片剂的涂层的润滑成分。
作为石油油田脱胶化成分
作为电容器浸渍成分
用于声纳传感器
作为电容器的一种介质材料
用于聚氨酯铸模树脂的制造
用于在汽车、卡车和机械的液压液中
作为蓖麻油的其他衍生物的原料

印度精炼蓖麻油 质量指标
Appearance at 25℃ (外观) limpid
Mositure&Volatiles Matter(水分和易挥发物质) 0.25% max
F.F.A (游离脂肪酸) 1% max
Colour (色度) 20yellow 2red max
Saponification value(皂化值) 177-187 mgKOH/g
Acetyl value(乙酰化值) 140 mgKOH/g min
Iodine value(碘值) 82-90 gI/100g
Hydroxyl Value(羟值) 160-168 mgKOH/g
Relative density at 20℃(比重) 0.952g/ml min
Acid value(酸值) 2.00 mgKOH/g max
Refractive index(折光指数) 1.477-1.481
Unsaponifiable matter(不皂化物) 1% max
Insoluble Impuritier(不溶性杂质) 0.02% max
Ricinoleic Acid Content(蓖麻酸含量) 85%min
Refined Castor Oil

(First Special Grade – F.S.G/British Standard Specifications-B.S.S)
It is a castor oil bleached to British Standard Specifications (BSS). It is a yellow viscous liquid free from suspended matter and insoluble in water.
FSG/BSS Castor oil finds application in a wide variety of uses and is the starting material for most other derivatives of castor oil.
As an ingredient in pharmaceutical and cosmetic applications
In combinations with styrene and diisocynates for a film forming Varnish or a substantially insoluble infusible polymer
As lubricant component of coatings for vitamin and mineral Tablets.
As an ingredient for petroleum oil-field de-emulsification
As a sonar transducer fluid
As a dielectric material for electrical condensers
In manufacture of polyurethane casting resins
In hydraulic fluids for automobiles, trucks and machinery
As a starting material for most other derivatives of Castor Oil
| | | | |
| --- | --- | --- | --- |
| SR.NO. | SPECIFICATION / CHARATERISTICS | TEST METHOD | PARAMETERS |
| 1. | Free Fatty Acid (mgKoH/gm) | Aocs 13e.92 | 1.0 % Max |
| | (As Ricinoleic) | | |
| 2. | Acid Value % (mgKoH / gm) | Aocs CaSa – 40 | 2.0% Max |
| 3. | Moisture & Volatiles % | Aocs Ca 2e - 25 | 0.25 % Max |
| 4. | Colour on Lovilond | | |
| | 1" Cell (Y+5R) | | 2.2 Yellow, 0.3 Red Max |
| | 5 ¼" Cell (Y+5R) | Aocs Cc 13E – 92 | 20 Yellow, 2.0 Red Max |
| | Colour Gardner | - | 3 Max |
| | Iodine Colour | - | 4 Max |
| 5. | Iodine Value (By Wiss, gI 2 / 100g ) | Aocs cd 1.25 | 82 – 90 |
| 6. | Saponification Value (mgKoH / gm) | Aocs cd 3.25 | 177 – 185 |
| 7. | Unsaponifiable Matter | | 1.0 % Max |
| 8. | Hydroxyl Value mgKoH / gm | Aocs cd 13-60 | 160 Min. |
| 9. | Density at 30ºC | Aocs 10C – 95 | |
| 10. | Specific gravity 15ºC | Aocs Cc-10G-25 | 0.952 – 0.965 |
| 11. | Viscosity at 20ºC Pas | - | 9.5 - 11.0 |
| | Viscosity at 25ºC Pas | - | 6.0 – 9.0 |
| | Viscosity Gardner | - | U – V |
| 12. | Refractive Index at 20ºC | Aocs cc 7.25 | 1.477 – 1.481 |
| 13. | Peroxide Value | Aocs cd 8.53 | 5 Max |
| 14. | Optical Rotation | - | +3.5º to +6.0º |
| 15. | Solubility | - | Complete soluble in Alcohol without turbidity |
| 16. | Ricinoleic Acid Content | GC | 85% Min |
| 17. | Insoluble Impurities | Aocs Ca 3a – 36 | 0.02% Max |