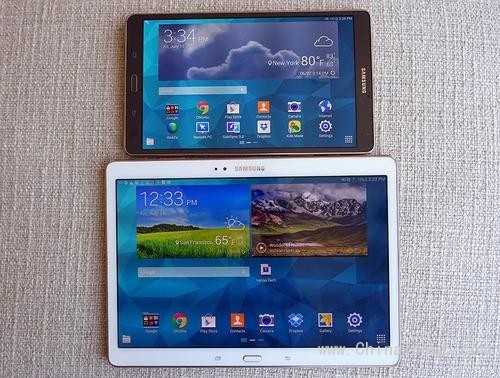 硬件:
三星在这款设备上硬件做的很出色。它有两种尺寸,500美元的10.5寸型号,以及400美元的8.4寸款。
下面是装置的硬件详情
•重量:
重量在一款平板上是很重要的因素。这款三星平板电脑比ipad轻得多,重量大概三分之二磅,而不是后者的一磅重。并且要更加薄一些。(然而有一点,三星这款平板之所以会如此轻,是因为它的材质是塑料,而不是金属。背面是有小窝痕的塑料,上面镶嵌有三星logo按钮,其目的是为了在特殊情况下使用。)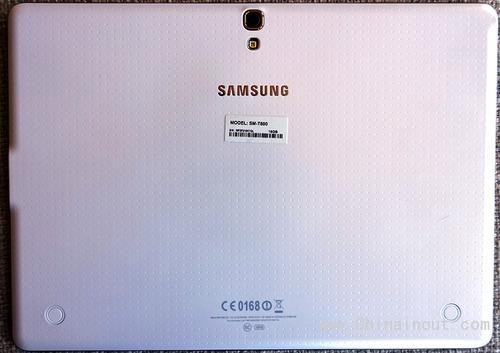 •扩展:
你可以通过购买一个SD卡放入卡槽来扩大内存。(iPad,相反,是不可扩展的。)Android操作系统不允许你存储卡上的只读文件存储应用,只支持文件如音乐和电影。
•电池寿命:
正常情况下,一般使用可以使用两天时间。
•屏幕:
目前还没有人对显示屏有过任何的抱怨出现。这款机器的显示屏看起来很棒。锐度,亮度和色彩饱和度非常好。(它使用的是AMOLED技术。)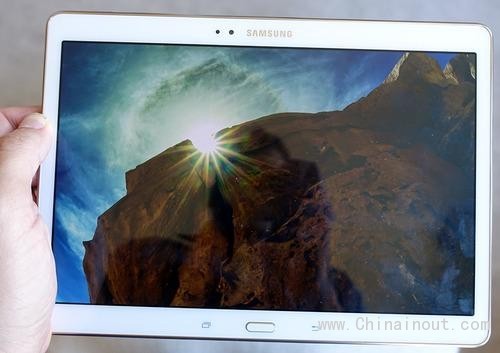 Let's just face it: Tablets may now be fully baked.
They've pretty much reached their maturity. There's not much more anyone can add to them.
It happens. Sometimes, products fulfill their destinies and stop growing. We don't complain about the lack of breakthrough new features in lawnmowers, toasters, or even PCs, do we?
Samsung is only making the sense of stagnation worse by flooding the market with very similar tablet models — nine different Android tablets this year. Trying to describe and review them, let alone trying to choose one to buy, gets exhausting.
But here's a shot: a review of the latest hot tablet, the Samsung Galaxy Tab S.
The hardware
Samsung has done an excellent job on the hardware of this device. It's available in two sizes, $500 for the 10.5-inch model, $400 for the 8.4-incher. (Those are the 16-gigabyte, WiFi-only models. $50 more buys you 32 gigabytes; no cellular version is available yet.)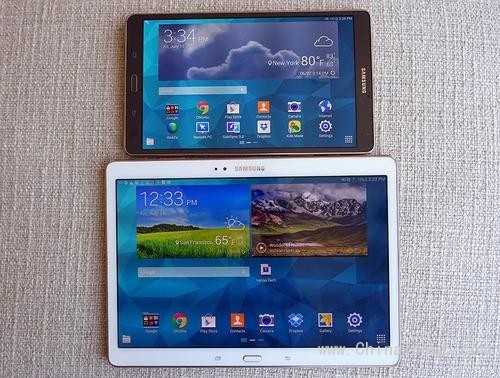 Here's what's good about these devices:
• Weight. Weight makes a huge difference in an object you have to holdall the time you're using it. The Samsung tablet is much lighter than the iPad: two-thirds of a pound instead of a whole pound. It's slightly thinner, too.
(Unfortunately, one way Samsung made this tablet so light is by building it from plastic instead of metal. The back is cheesy dimpled plastic, pocked by logos and fasteners, which are designed to attach to special cases.)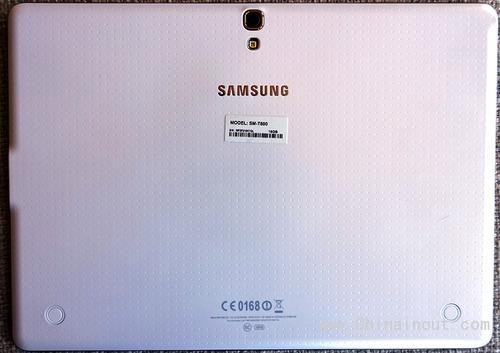 • Expansion. You can expand the storage of this tablet by buying a microSD card and popping it into the slot. (iPads, by contrast, are not expandable.) Note that the Android operating system doesn't permit you to store apps on a memory card — only files, like music and movies.
• Battery life. The usual: You'll get a couple of days of typical use out of it.
• Screen. Nobody exactly complains about the screens of existing tablets, but this one looks wonderful. The sharpness, brightness, and color saturation are excellent. (It uses something called AMOLED technology.)